Description
Crazy Baby Quilt Completed Series 2! This series is full of fun sweet baby animals and baby things! Tiger, dinosaur, panda, sheep, piggie, beaver, penguin, koala and much more! This series is a sew and flip method of piecework. There are no applique lines holding the pieces down which gives the designs a low stitch count so they stitch up quicker! These are super easy and a tutorial walks you through the first few steps of each block with step by step color charts that will walk you through the rest.
This series contains 20 original crazy quilt blocks! There are 40 files in each format. One with an applique edge (ap file) for appliqueing onto bags or free standing and one with a thin zigzag unfinished edge and a seam allowance for making quilts (qe file.)
If you need exact stitch counts on each block please refer to the individual sets.
| | | | |
| --- | --- | --- | --- |
| Hoop Size | Actual Size In mm | Stitch Counts From | And Up To |
| | | | |
| 4 x 4 hoop | 100 x 100 | 7933 | 13964 |
| 5 x 7 hoop | 130 x 130 | 10250 | 17960 |
| 6 x 8 hoop | 150 x 150 | 11539 | 20702 |
| 7 x 10 hoop | 180 x 180 | 14298 | 28335 |
| 8 x 12 hoop | 200 x 200 | 15597 | 24383 |
| 9.5 x 14 hoop | 240 x 240 | 19152 | 31932 |
| 10.7 x 10.7 hoop | 272 x 272 | 14298 | 28335 |
 5×5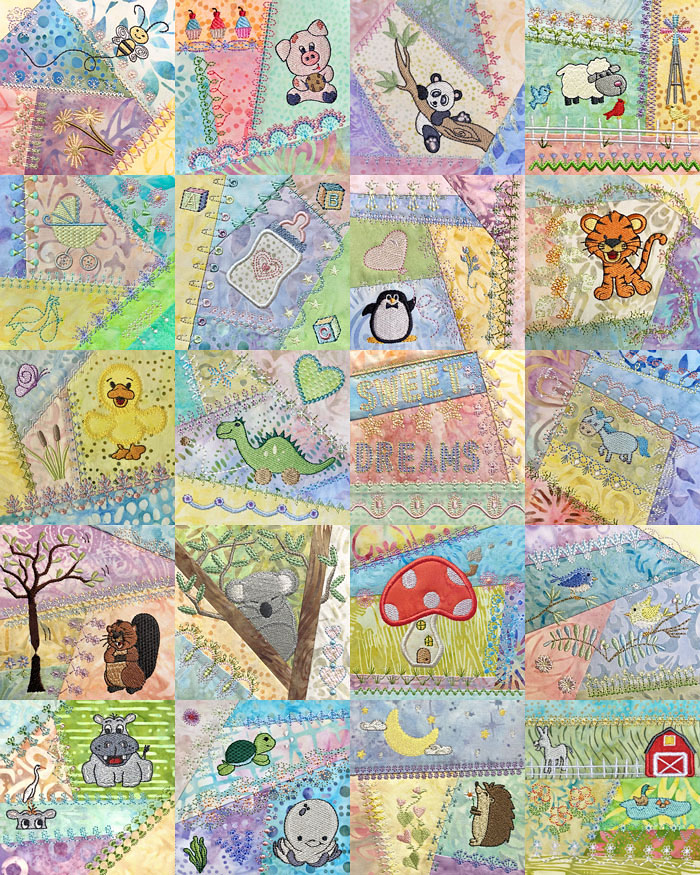 10×10